Lazy sunday afternoon..
Am enjoying my lazy sunday afternoon at home now.. :P It's been a long time since I last did this and best part is the weather is nice and cool.. had been raining earlier in the day.. :) So feel like taking a nap as well.. :P Hee...
Wasn't feeling too well the past 2 weeks.. prob due to the prolong cough. Been feeling perpetually tired.. not sleepy tired, just physically tired in that I have to drag my legs just to walk from the mrt station to the bus stop.. :S It's such a horrible feeling, to have no energy to do normal daily stuff.. :( But thank God, it's much better now.. :) Hee.. Almost back to normal.. 90%.. :D
Made the much procrastinated trip down to Creative yesterday.. To repair the mp3 player. It was at Jurong East.. Est and me had to walk an extremely long way from the mrt station just to get there. :S Upon reaching, we got a queue number with 20 pple before us.. :( Saturday afternoon lah.. no choice I guess.. Anyway, just to take note, most pple were bringing their Zen Micro for repair lah.. :P Hee.. Finally, when my turn reached, the cust svc officer managed to identify the problem quite easily.. She informed me that the warranty was already over.. I kinda knew that before going, missed by a month I think.. Anyway, was prepared to pay a little lah.. So I asked her the cost of repair.. She tapped the calculator and told me max is $192... Must be nuts to pay $192 for repairs !!! :S She quite kindly told me it's prob more worth to buy a new one.. I fully agree !! Then she added - got creative fair coming up... I looked at her and the first thot that ran through my mind was - You think I will ever buy Creative again ?? Yah.. so there.. Time to search for a new mp3 player.. The one below looks quite good.. :) Iriver H10.. Ipod's good and all, but the voice recording feature requires an additional accessory leh.. :(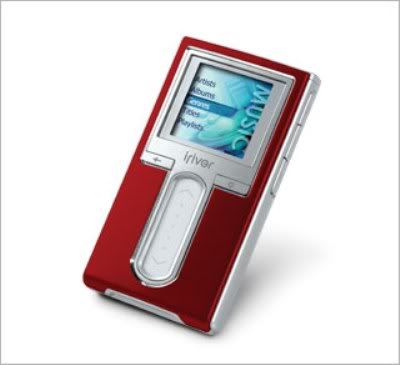 Check out the review on Cnet..
Iriver H10
.. Not bad.. Can view pictures as well.. :)